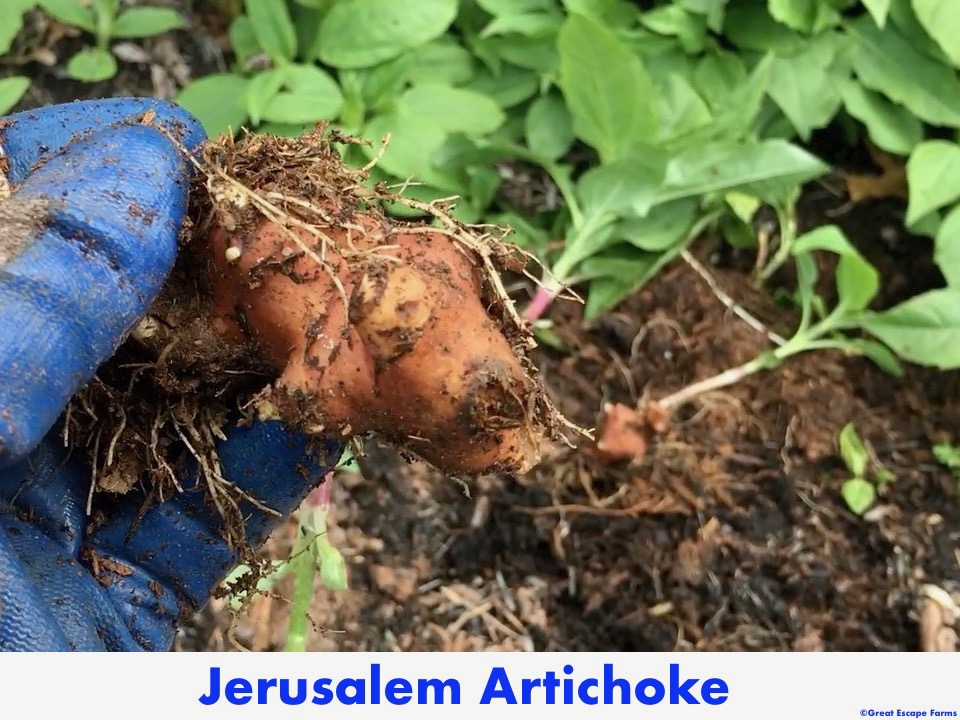 The Jerusalem Artichoke Helianthus tuberosus plant is a unique edible plant that is high in fiber. Jerusalem Artichoke Tubers for Sale at Great Escape Nursery.
Jerusalem Artichoke Helianthus tuberosus
Available for pickup at our MD and WV nurseries. Sorry, we do not ship plants.
100 available
Plant Information for Jerusalem Artichoke Helianthus tuberosus
Jerusalem Artichoke Helianthus tuberosus, also called sunroot, sunchoke, earth apple, or topinambour, is in the sunflower family and is native to Eastern North America. It has a botanical name of Helianthus tuberosus. Cultivated by native Americans for the tubers that resemble ginger root in appearance.
Jerusalem artichoke is a herbaceous perennial that grows well in USDA Hardiness zones 3 to 9. It is a self-fertile plant that loves full sun and will tolerate partial shade. The plant can grow from four to nine feet tall and has yellow flowers from late summer into the fall.
The stalks and leaves can be harvested and used for silage and my dog Murphy loves to munch on the leaves for an afternoon snack.
Tubers
Jerusalem artichoke are primarily grown for their sweet and nutty flavored tubers. The tubers are sometimes used as a substitute for potatoes, having a similar consistency. Tubers may be grated raw into salads, boiled and/or mashed somewhat like potatoes, roasted or added to soups.
The tubers store their carbohydrate as inulin rather than as starch. Tuber production occurs in response to decreasing day-length in late summer. Each tuber/root can make an additional 75 to 200 tubers during a year. (that's about 2-5 pounds of tubers per year.)
Caution!
Jerusalem artichoke can become weedy and invasive. Once planted in the landscape, it can be difficult to remove, and typically spreads to form colonies. The plant spread via seed and tubers, but it is the tubers that can really cause an issue. As noted above, they grow a lot of tubers in a year and if any piece of a tuber is left in the ground, they will grow a new plant.
Planting Jerusalem Artichoke
Jerusalem Artichoke tubers should be planted like potatoes and covered to a depth of about 4 inches. Deeper planting may delay emergence, weaken the sprouts, and cause the tubers to develop deeper, making harvest more difficult. The more fertile the soil, the better they will grow.
Be sure to check out our other great plants for sale at Great Escape Nursery.
Sorry, we do not ship plants. We will only be selling plants from our nurseries in Maryland and West Virginia. Pease see our "Contact Us" page for more information.