This post is about Michael Judds Round Straw Bale House.  Michael explains the construction and efficiencies of his round straw bale house.  They have been working on this project for five years now and are finally living in it.  The house is located just outside of Frederick, MD near Gambrills State Park.
---
Great Escape Farms is now on Patreon! If you enjoy our work and want to help support us, please check out our Patreon page at: https://www.patreon.com/gef
---
House Construction
The house itself is round with walls that are made of actual straw bales.  Walls on the inside are earthen plastered and they are lime plastered on the outside.  This construction style allows the walls to actually breathe and as Michael puts it; "the walls moderate humidity and actually makes it very comfortable in the winter and the summer."
Heat
There is a masonry heater built in the center of the house that heats the entire house with one arm full of wood.  The straw bale house construction allows for the efficiencies with extremely thick walls and a living roof, that keep heat out in the summer and hold heat in in the winter.
Materials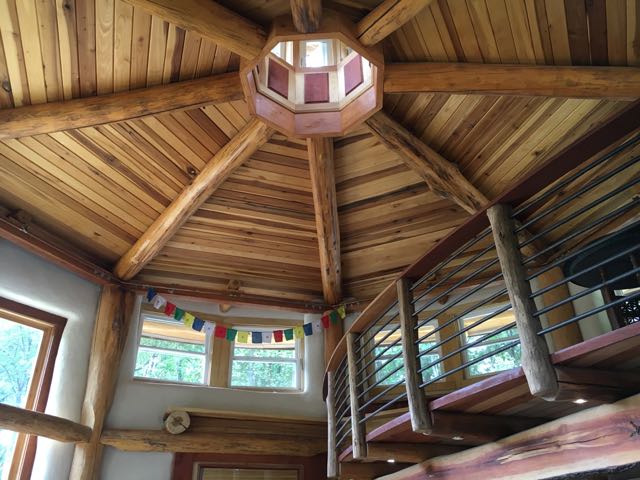 Most of the materials in the house are from the property or in the local area.  All of the wood was harvested from on property, most after hurricane Sandy went through and downed a number of trees.  The wood was hand peeled and sawmilled onsite.  The straw bales are from nearby farms.  Both floors and walls are made from earthen plaster or earth.
Community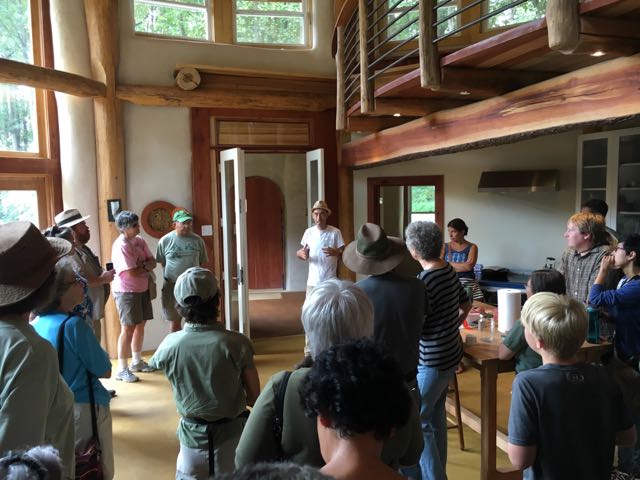 Michael explains that his house was built with lots of local involvement by friends and the community.  As you can see from the video below, there are a lot of different people involved in the construction of this magnificent house.
About Michael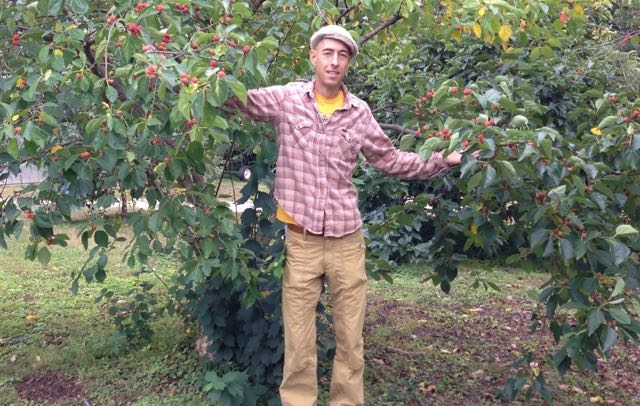 Michael Judd is the author of "Edible Landscaping with a Permaculture Twist".  This book is a how to oriented book on different permaculture and edible landscaping projects.  The book includes projects on herb spirals, garden beds that harvest water, how to start a food forest, uncommon fruits, Hugelkultur beds, earthen ovens.  It is based on projects that Michael himself has experience building.  The book can be found at Amazon or at the link below.
Amazon Link
The Video
Check out the video below, titled Michael Judds Round Straw Bale House.
---
Want to Help our Small Business Out
If you shop at Amazon, please go through our site.  All you have to do is click the Amazon button on the menu bar at the top of every page on our web site.  That link will take you to Amazon and you then shop as you normally do.  It does NOT cost you one penny more, but it does help us out!  Thank you very much for helping to support our small business!
---
Thanks for viewing the Michael Judds Round Straw Bale House post.
If you like plants check out Great Escape Nursery.
Please give us your feedback on Michael Judds Round Straw Bale House by commenting below.
Save
Save